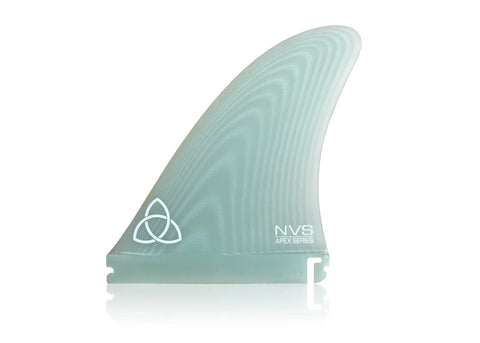 Star Systems Twin - Apex Custom
The Star Systems Fin was was designed in the late 1970's as one of the first tool-less fin systems.  The fins fell out of favor in the late 80's due to the quality of the original plastic fins. The brittle plastic tab on the back would crack and render the fin useless.  


A second screw in version of the fins was briefly used but it had another set of problems which let to the discontinuation of the fin boxes these fins used.
Many popular collectors board have the Star Systems box and in collaboration with Bird Huffman of Birds Surf Shed we've recreated the original twin template with modern foiling for increased performance over the original fins.  Machined out of G10 fiberglass there is now no fear the rear tab will break and you can get these boards back in the water.
Side
Base
: 5.93"
Height
: 5.94"
Area
: 22.87 in²
Sweep
: 27.7°
Foil
: 50/50

Part of our Apex G10 Construction; made with a solid piece of precision foiled G10 fiberglass for the ultimate in performance and durability.

 

The combination of highly durable material and precision foiling yield a fin that is stronger and has a more ideal flex pattern than your traditional honeycomb or composite fins. Learn more about the 

NVS Apex Series fins

.


NOTE
: We've had to modify the notch on the tab in order to allow tab to flex in order to click the fins in. 
---
We Also Recommend
---