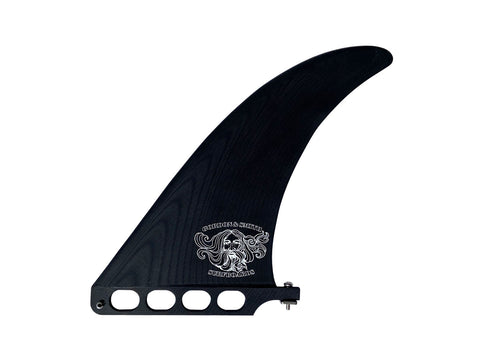 G&S Gypsy - Apex
The Gypsy is a revival of one of G&S's most popular single fin outlines from the mid '70's. Working with them to bring this fin back was a cool process. 

As per Eric and Debbie Gordon this fin was designed to have a little more base and a thin but not overly flexible tip. The result is a fin with the hold of a larger template and the free feeling of a smaller template. After extensive salt water testing and numerous adjustments, we've managed to come up with something that the good folks at G&S feel "is especially good for the aggressively stylish single fin rider."   It's crafted to pair with most eggs, swallowtails, and mid lengths.  

The fin comes with G&S's "The Old Man of the Sea" graphic which is rumored to be a likeness of Floyd Smith after returning to the US after traveling to Australia during the late 60's and 70's in an effort to bring G&S Surfboards to the land down under.  Floyd later reworked the design for his pub after leaving G&S in 1971.  Although it wasn't a G&G model logo at the time, the Old Man of the Sea artwork made it onto a tee shirt that "all the guys wore in the glass shop."  G&S is now using the old man logo on all their "Gypsy" Model boards and have re-released the shirts.   

We're making these for G&S in our Apex Series construction.  As Debbie and Eric put it; nothing but the Best for the Best, get rid of the Rest!  Available here or directly from G&S (Via their site and at their shop)  

Height: 8.25"
Base: 5.97"
---
We Also Recommend
---